Brandy
About Brandy
I'm a retired elementary school teacher, freelance writer, and an aspiring author who happens to be a lupus fighter – which has been quite a journey in my life!
I enjoy reading, writing, listening to music, and spending time with family, friends, and all of my four-legged fur babies!
Brandy's
Work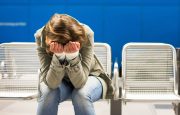 Our writers Brandy and Barbara share their experiences with anxiety and their tips for coping with it.